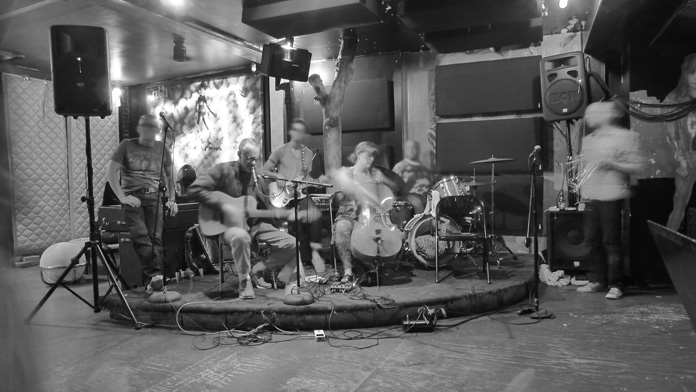 Arthur's Landing explores the BUDDHIST POP songs of Arthur Russell
"Something old, something new
Something borrowed, something blue"
Spring Collection is a five-song EP from Arthur's Landing, representing the band's ongoing development and morphing lineup. With a rotating cast of New York-based musicians (buoyed by original members Steven Hall and Mustafa Ahmed), the band initially formed to play Arthur's Russell's beloved compositions "for pleasure." Some of the members, who performed on Russell's original recordings, have been living with these songs for more than three decades. After an acclaimed album on Strut and various singles, the Spring Collection EP represents the first all-new Arthur's Landing recordings in several years.
The first two cuts – a new version of "Love Dancing" and an instrumental take on "Your Motion Says" – are from the last recording session with original band member Elodie Lauten. Recorded by Arthur's favorite producer Bob Blank, Elodie can be heard singing and playing Victor Borge's Steinway Grand. The remaining tracks represent a new direction for Arthur's Landing, recorded at Russell Street Studio by Carlos Hernandez and Alex Lipsen. Featured are Andrea Derrickson, twin sister of Arthur's Landing founder Steven Hall, guitarist Walter Vernon Baker, and original Scissor Sisters drummer Paddy Boom. The brand new arrangement of "Love Comes Back" includes Vancouverite vocalist Adam Wawzonek (AKA Soliterre) who jumped on a cross-country Greyhound bus and crashed with Steven and new member Marcus Huffman, eager for firsthand tales of working with Arthur. Before the end of Adam's visit, Steven whisked him to Russell Street Studio, and he was recording with the band.
Listen now to Arthur's Landing's Spring Collection EP.